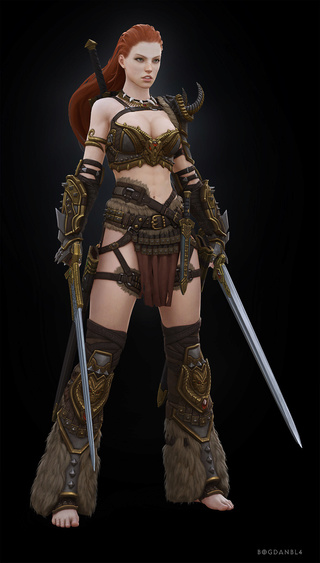 Sheet Version: 1.0
Name: Angel Forge.
Race + Class(level): Tanarian Warrior(110)
System Level: 1
Health: 31. Power: 26.
Combat: 35. Avoidance: 30.
Weapons:
Twinblades of Ascende - Dual Wield - 6dmg, no crit.
Oaken Bow - Bow - 5 dmg, normal. 7 crit.
Armor:
Gor Keshel Outfit - leather - +1 HP, +1 Power.
Abilities:
"Gotcha!"(6 Power): Angel draws her bow and sends an arrow flying, aiming at her enemies chest. She hits her target's gut and deals 3 dmg.
"Too slow, numbnuts!"(Passive): At a fatal blow, Angel manages to dodge it just in time, avoiding any damage that turn.
"I know, I'm amazing."(12 Power): Angel jumps over her enemy and quickly turns around to slice a cross into the enemy's back with her blades, dealing 6 dmg.
"I am a Forge!"(20 power): Angel refuses to die and upon a fatal blow, she throws one of her blades at the target, impaling their chest and dealing 10 dmg.
"Enough! I'm taking you out!"(Max Power): In a flight of rage, Angel fires a Seaforium-Charged Arrow at her enemy, causing a massive explosion and dealing half her power in damage to her target.

_________________
What you do when facing death, defines who you are.