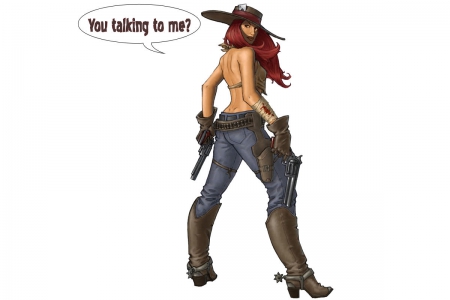 Sheet: 1.0
Name: Celesté Nightingale
Race + Class(level): Gilnean Cowgirl(110)
Sheet Level: 8
Hp: 40. Power: 40
Combat: 36. Avoidance: 36.
Weapons:
Dual Double-barreled Revolvers - Guns - 6 dmg, 8 crit.
Leather Whip - Misschelaneous - 5 dmg, 7 crit.
Armor:
Gilnean Wrangler's Regalia - Leather - +2 Power.
Abilities:
Hail of Bullets(10 Power) - Celesté spins around, twirling a revolver around her index finger while sumiltaneously pulling the trigger, firing off five rounds that deal 2 dmg to 5 enemies or 5 dmg to 2 enemies.
Lashing Fury(14 Power) - Celesté grabs her whip and swings it at her enemies, hitting him/her in the face twice and once against his/her ankle to force her enemy on their back and deal 7 dmg.
Here Comes The Boom!(18 Power) - Celesté throws a bag of dynamite towards her enemy and then fires a bullet at it, forcing the sticks to go KABLOOEY in her enemy's face, dealing 9 dmg!
Hell Hath No Fury..(32 Power) - Celesté grabs her whip and masterfully swings it around, being in complete control, she lashes 3 enemies for 6 dmg or 8 enemies for 2 dmg.
Yeehaa!(Max Power) - Celesté wraps her whip around one of her enemy's necks and jumps on her horse, she then orders it to ride and drag the foe with her until she eventually allows the horse to trample him, causing instant death. (does not work on Event Bosses)

_________________
What you do when facing death, defines who you are.